We have not come to the end of the year, but the wedding dress trend in 2013 could have been predicted. As quoted from the site Brides, consider five wedding dress trends, from colors to the new model below.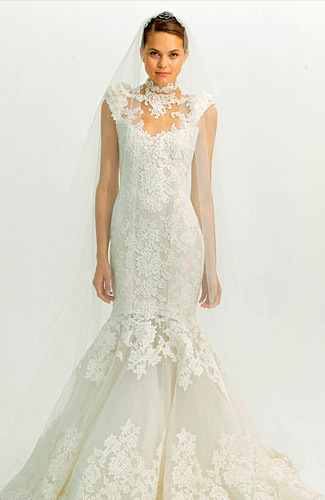 Lace Nouveau.
Kate Middleton wedding dress seems to still give effect to the 2013 wedding dress designs. With a wide range of lace materials and variations of floral, wedding dress look more romantic and soft.


Detail in Backs.
For spring 2013, with the accent on the back dress look more elegant, mature and romantic. For example, by combination of lace or embroidery detail, the results are shown were sexy but still decent.


Transformers.
Wedding dress in 2013, appear more practical. Some designers offer a dress that can be removable, for example, a full skirt that can be used during the event blessing and released at the reception and to be able to run and move around later

Color
Lately, many designers who presented with a bandage dress bold colors, like red and blue. You do not need to wear a white dress, but it should still look like a wedding dress. The key is selecting the color that best suits your skin tone.


Peplum
Peplum not only is applied to a formal dressed in, but also on wedding dresses. Peplum can give the appearance of luxury couture and silhouette of a graceful bend.